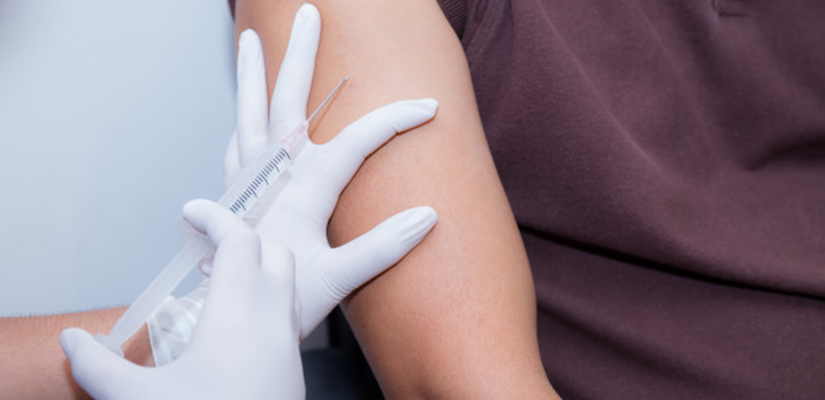 Vaccines are one of modern medicine's major success stories – tackling infectious diseases by making people immune or resistant, stimulating the body's own immune system – have prevented at least 10 million deaths between 2010 and 2015, stresses Dr. Margaret Chan, the Director-General of the World Health Organization (WHO)
About one month after a child is born, they are given the first of their vaccinations. Ideally, by the time the child starts pre-school they should receive the following:
1. Varicella (Chickenpox) Vaccine
According to the Centers for Disease Control and Prevention (CDC), all healthy children, ages 12 months through 12 years, should have two doses of the chickenpox vaccination. The CDC recommends the first vaccination be given between 12 and 15 months, and the second between 4 and 6 years of age.Research suggests that the varicella vaccine is relatively safe. Serious side effects are rare, and include:
soreness, swelling, and redness around the injection site
fever
rash
2. Rotavirus Vaccine (RV)
Rotavirus is a highly contagious virus that can lead to severe diarrhea in infants and young children, and it often goes along with vomiting and fever. If left untreated, it can cause severe dehydration and even death.The first dose must be given before 15 weeks of age and the last must be given by 8 months of age.Research suggests that not all babies should receive the rotavirus vaccine. Babies who have had an allergic reaction to a rotavirus vaccine or have other serious allergies should not get the vaccine.
3. Hepatitis A Vaccine
Hepatitis A is an acute liver disease caused by the hepatitis A virus. Symptoms can last from a few weeks to several months. It is recommended for all children between their 1st and 2nd birthdays. It should be given in two shots, six months apart.
The hepatitis A vaccine is also sometimes recommended for adults. Travelers to certain countries and people at risk of contracting hepatitis A — such as men who have sex with men, people who use drugs, and people with chronic liver disease — should consider being vaccinated for hepatitis A.
4. Meningococcal Vaccine (MCV)
Meningococcal disease is a serious bacterial illness that includes meningitis (the inflammation of the protective layer surrounding the brain and spinal cord) and blood poisoning. Kids can get the meningococcal disease by living in close quarters, sharing utensils, kissing, or inhaling the secondhand smoke of an infected person.
5. Human Papillomavirus Vaccine (HPV)
Human papillomavirus vaccine (HPV) is a common virus that is passed through genital contact. Some strains of HPV types can cause cervical, vaginal, and vulvar cancers in women, penile cancer in men, anal and throat cancers, and genital warts in both men and women.
The HPV vaccine is recommended for 11- and 12-year-old girls. It is also recommended for girls and women ages 13 through 26 years who have not yet been vaccinated.
6. DTap (Diptheria)  Booster
DTap boosters are combination booster shots that protect adults from diphtheria (a serious infection of the nose and throat), tetanus (a bacterial disease that attacks the body's nervous system), and pertussis (called whooping cough, which is a very contagious infection of the respiratory system).