A Quick Guide to COVID-19 Vaccination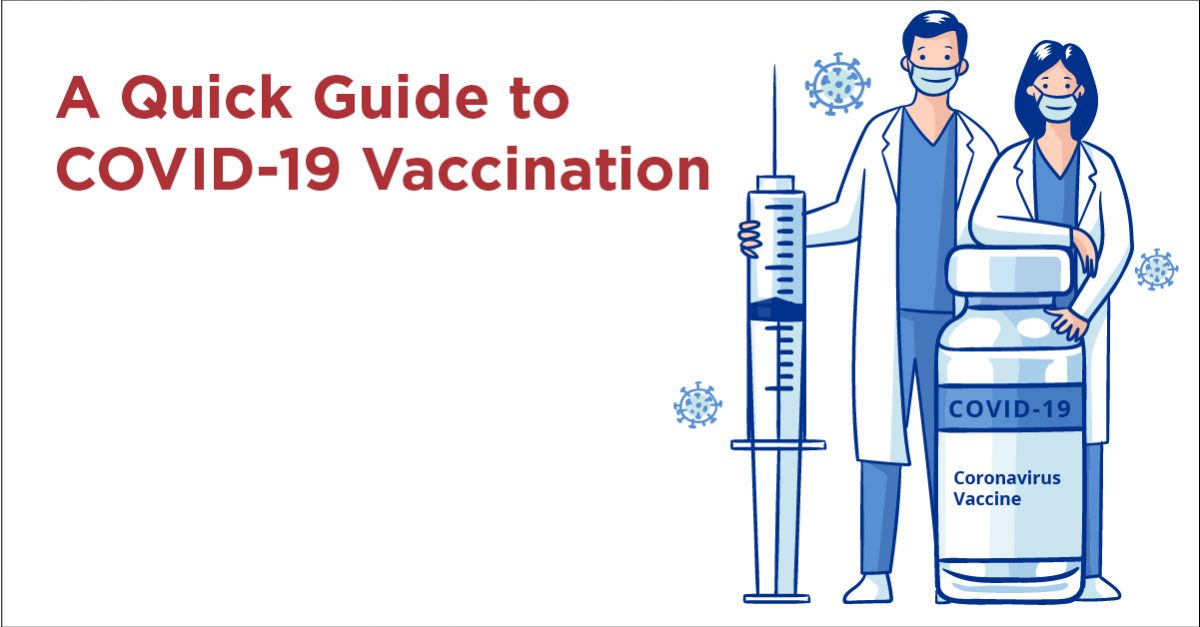 The start of 2021 gave us finally a fighting chance against the most deadly virus that has plagued us in modern times. With over a year of everything in the world coming to a stall, COVID-19 vaccination is now offering a way to transition out of this phase of the pandemic.
The vaccine will help us achieve two things
It will further bring down the mortality
It will bring down the number of cases.
Regardless, many citizens have a lot of inhibitions. We are here to offer the basic guidance and answer some common questions to spread awareness about COVID-19 vaccination in India. Read ahead to learn more.
What are the most available COVID-19 vaccines in India? Are they safe?
At present in India, COVAXIN (Bharat Biotech) and COVISHIELD (Oxford-AstraZeneca Vaccine) would be available. Both are equally efficacious in preventing mild, moderate, and severe COVID-19.
Both of these vaccines are free from any living virus and are prepared from a small RNA piece (free from virus). It helps in activating a person's immune cells to manufacture antibodies against the viral spike protein, signifying that if or when a person gets exposed to the virus, he or she will already have defensive antibodies in their system to fight it.
Regency Hospital is currently administering Covaxin to people in Kanpur and Lucknow.
Can we get the virus again after getting the COVID-19 vaccine?
Yes, you are prone to Covid after vaccination. However, the rate of infection after vaccination is much lower than someone who has not been vaccinated. Even if such an infection occurs, by virtue of the vaccination, the body has a good amount of antibodies to limit the infection to a mild stage, thereby reducing the chance of progressing to severe COVID-19, possibility mitigating the possibility of death
Steps I need to take 
Register yourself to get vaccinated on www.cowin.gov.in
Avoid taking steroids the week before you're vaccinated or immediately after since steroids suppress inflammation.
Sleep well. It is advised to sleep for at least 6 hours prior to the date of vaccination.
Do not smoke or take alcohol before getting vaccinated.
On the Day of Vaccination
Do not take pain relievers. These medications can decrease the vaccine's effectiveness.
Wear proper clothing and double masks– Wear something that gives easy access to your upper arm area.
Stay hydrated. While you are hydrated, you might still experience dizziness and constipation which would compound any mild side effects from the vaccine, so don't worry
Use your non-dominant arm for vaccination.
Wait for 30 minutes at the vaccination site to see any immediate side effects or you can wait in your vehicle. If you experience any discomfort or uneasiness, report it to the healthcare workers immediately
After the COVID-19 Vaccine
Avoid alcohol and smoking as it may hamper COVID-19 vaccine effectiveness
You may experience any/some of the following symptoms for the first 2-3 days:
Fever and chills
Pain, inflammation, or redness around the site of injection
Headache
Tiredness
Joint pain and muscle pain
Nausea and vomiting
Inflammation in the lymph nodes
Use pain relievers if needed. If you experience arm pain, soreness, or discomfort after the shot, experts say that it's likely safe to take pain relievers. Ice packs can also help. Caution: Do consult a doctor before taking any medication.
Keep Paracetamol nearby in case fever reaches above 100° F and continue taking all the safety measures.
Regency Healthcare has started its COVID-19 vaccination drive for all eligible citizens above the age of 18 years in Kanpur and Lucknow. For a step by step process of the vaccination registration and FAQs,