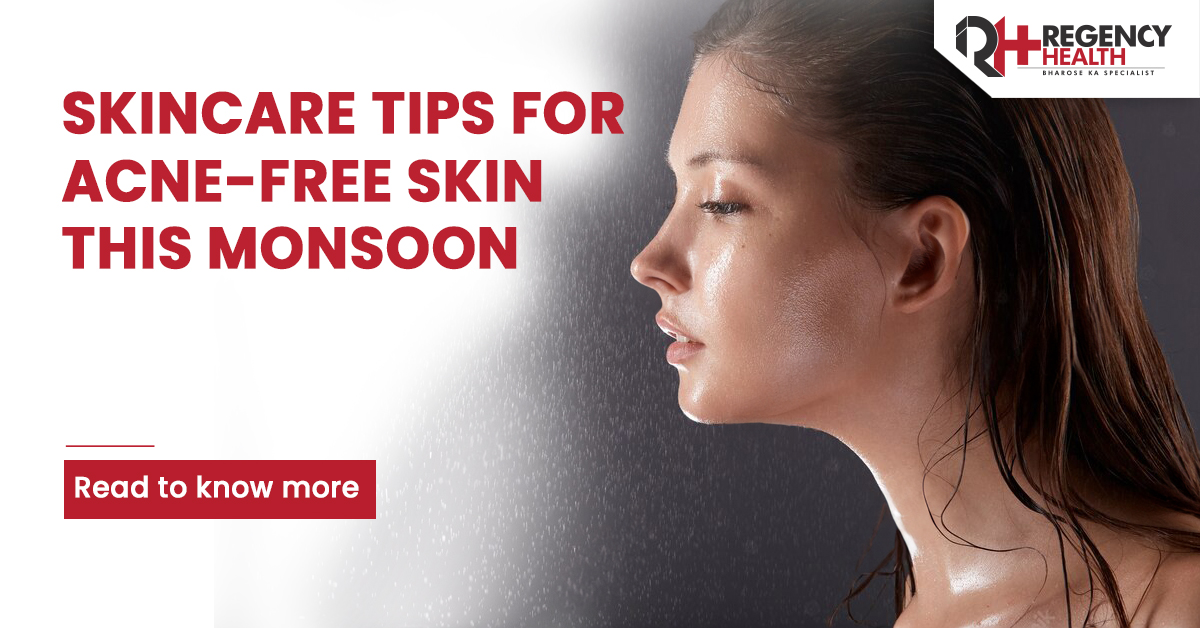 Monsoon brings a huge respite from the scorching summers. Stepping out of home becomes a pleasant experience as a cool breeze welcomes you and the temperature is finally comfortable to relax and rejuvenate. While the rainy season is a huge respite from the heat and sweat, it also brings some skin troubles and complications. As the weather changes and humidity levels increase, our skin struggles to adjust and maintain its natural glow. One way to handle this unpleasant situation is to adopt a monsoon-specific skin regime. Controlling oil on the face and tackling acne-prone skin during monsoons can be really challenging, hence we must be as careful with monsoon skincare as we were during the summers. 
The use of lighter skin products and a proper routine for skin care can help a lot in handling these monsoon skin problems. You need to follow a few steps in addition to the fundamentals of washing, toning, and moisturizing to maintain healthy skin in the monsoon.
Here are some monsoon skin care tips that you can follow to keep healthy and glowing skin.
Exfoliation is one of the basic parts of ideal skincare and we must inculcate this habit. It helps in the skin's glow as it removes dead cells from the skin. Exfoliation involves scrubbing the skin two to three times and week. This also helps in blood flow and toxin removal. Once the dead skin cells are removed, other skin care products can be absorbed better.

Wearing minimal or no makeup during the monsoon is the best way to go. Heavy makeup won't last long and adds the risk of clogging your skin's pores. Opt for CC creams which will balance out your skin tone. They will also eliminate the need for a foundation and concealer. Skin becomes lighter and breathes better and lighter makeup can also save a lot of grooming time. Switch lipstick with lip balms that are tinted. These will moisturise your lips and lend them a subtle colour.

Include alcohol-free toner in your skin regimen and experience non-greasy and healthy skin. Choose a product that contains antioxidants like green tea or glycolic acid to maintain a healthy pH balance, shrink enlarged pores, and manage blemishes and acne.

Soap-free cleansers are pretty mellow on the skin and help retain skin's natural oils which are quite necessary in every season. Regardless of your skin type, switch to a face wash without soap during monsoon to remove grime and oil without drying out your skin. Wash your face 2-3 times a day and not beyond that.

The majority of people make the error of avoiding sunscreen as soon as the rainy season begins. Non sunny days and cloudy weather can also impact your skin and sunscreen is a must to counter these conditions. The presence of UV rays can create major skin complications in the long term. To avoid oily effects on your skin, you can opt for one of the several non-oily sunscreens that are available in the market today. Look for SPF 30 and above sunscreens for the best protection and reapply it frequently.

Contrary to what many people think, you still need a moisturiser in the rainy season. All skin types regardless of the season and time of the year need to be moisturised. It keeps your skin hydrated, which prevents your skin from having to work extra hard to create extra oil. In other words, moisturised skin looks younger and experiences fewer skin issues. This is why you must incorporate a moisturiser into your monsoon skin care regimen. To maintain the health and happiness of your skin, use a light, non-greasy solution that contains natural components like aloe and hyaluronic acid.